On a glorious summer afternoon, at the renowned fields of the Great Lawn in Central Park, the RDM Lazers squared off against the highly touted American Red Cross. Unfortunately, it looked like our beloved Lazers may have needed a little CPR from their rivals to wake up the bats and revive our normally solid fielding.
Prior to the first pitch, the RDM Lazers exerted high confidence and coolness, as they swaggered onto the Great Lawn looking like a red army ready to conquer their feeble nemesis. This confidence quickly escalated to cockiness, as the Red Cross only showed up with eight players, assuring an instant out every ninth batter (not to mention only being able to field TWO outfielders).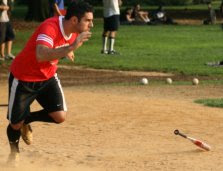 However, after the 1st inning, the Lazers brash confidence came crashing down, as they were only able to score a single run versus the Crosses three. It looked as if RDM manager Brian Sandler's head was going to explode in disbelief.
Despite the outstanding pitching performance from Lazer's ace Krystal Goff, aka The Goffinator, costly errors and untimely hitting with runners in scoring position allowed the Cross to obtain a one run lead going into the final frame. Its worth noting that the Cross 3rd basemen had a personal vendetta against Brian "Sandman" Sandler, as he quoted saying "This guy (Sandman) is playing the game like he has $500,000 on the line!"
All in all, it was a valiant effort from both teams, but the Lazers just didn't have enough. But I will leave you with this final note: It's not winning games that makes a team great. A great team is defined on how they bounce back from a tough loss, picking up the pieces and putting together the next go around. So on that note, Russell Reynolds Associates, I feel for you on Thursday. Cause the Lazers are thirsty for Vengeance!